For deep and restorative sleep.
DREAM supports your body by lowering cortisol and rebalancing your hormones naturally, so you feel calm and confident. Formulated by doctors and scientists, our lozenges are made of natural ingredients.
Choose Options
View full details
Meet DREAM, the sleep that made us famous. A Rebalance best seller, made of natural and organic ingredients crafted to give you the most powerfully restorative sleep you can experience – every single night. With DREAM, you'll sleep cooler, recover faster, boost immunity system support, heart, gut, and overall health. DREAM is scientifically proven to get you to catch ZZZs faster and last longer in your body, ensuring full nights of light. Alright, introductions are over. Time to grab some pillows and DREAM.
What Our trusted and proven proprietary lozenges empower nutrients to be absorbed and stored in the body longer, giving you more benefits each step of the way.
How Rebalance is about bringing hormones back into balance. We aren't just a band-aid for symptoms. We focus on what's causing them and help bring that in line.
Restorative sleep
Hormone repair
Brain health
One-Time Purchase • Welcome Kit: recyclable shipping box + 1 refillable glass jar + 30-day supply (1 pouch + 33 lozenges per pouch) • Quarterly one-time purchase includes Welcome Kit with 90-day supply (3 pouches + 33 lozenges per pouch)
Monthly Subscription • Welcome Kit • Month 2 and beyond: 1 sustainable replenishment pouch with 30-day supply (1 pouch + 33 lozenges per pouch)
Quarterly Subscription • Welcome Kit • Month 2 and beyond: 3 sustainable replenishment pouches with 90-day supply (3 pouches + 33 lozenges per pouch)
Our ingredients are natural; handpicked by our doctors and scientists.
List of ingredients: Directline™ (Ashwagandha Extract [KSM-66], AstraGin®, EDTA), Sunflower Lecithin "soy free" (Phosphatidylserine), Magnolia Officinalis, L-Theanine, Reishi Mushroom, L-Tryptophan, Melatonin
Z. Sleep Lozenge: Take a DREAM Z at bedtime.
We know that health is serious business. We're so confident in the quality and efficacy of our lozenges that we'll give you a full refund within 60 days if you don't love them as much as we do. If you're unsatisfied, we'll give you your money back and bet you'll return when your system starts missing the great benefits.
Gluten, soy,dairy, whey & sugar free
Superior bioavailability
Clinically tested
Vegan
No fillers, additives, dyes, or preservatives
Formulated by doctors
How You'll Feel
INITIALLY
Fall asleep faster, calming the racing mind. You may experience an increase in energy, and longer deeper sleep.
1 MONTH
Imagine a month of powerfully restorative sleep. It's one of the keys to unlocking limitless living. In 30 days, you should experience more energy on an ongoing basis, improved overall heart and gut health.
3+ MONTH
If you're living a lifestyle that contributes to your health (diet, exercise, emotional care) along with the DREAM, you'll notice a significant, if not total, change in your overall health and well-being. A balanced healthy life with Rebalance is a limitless life. That's where we want you to be.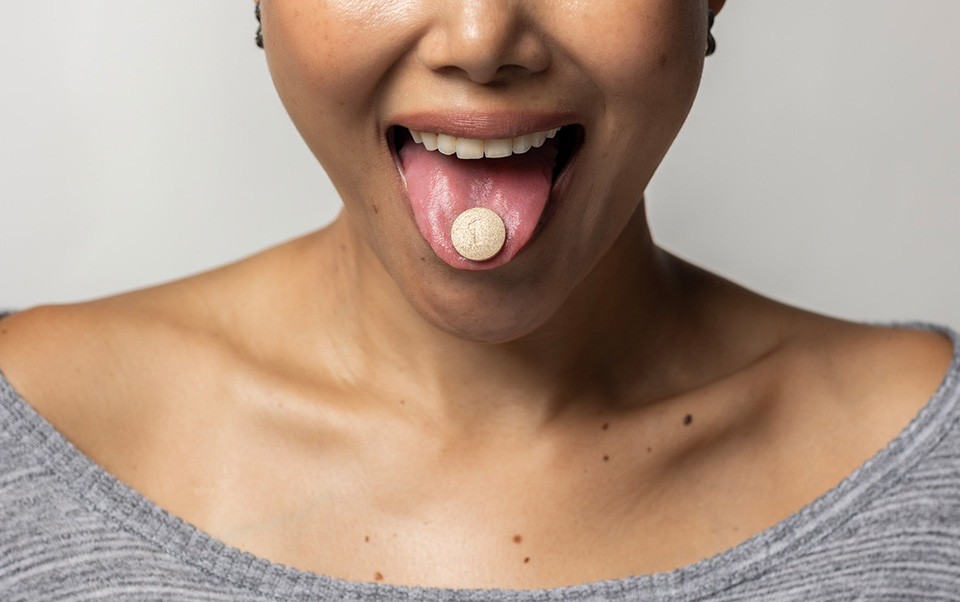 Our Science: Lozenges Work Best
Directline™ supercharges our lozenges
Our effective lozenge delivery method called Directline™ is a patented method to make sure you get more of what you need, and none of what you don't. The longer it dissolves, the better you feel.
Get More Where It's Needed
Provides 300% greater delivery of the natural ingredients your body needs to help balance hormones.
Naturally Disruptive
Naturally breaks down barriers in the body that pills can't get through, so the body can absorb all the goodness in Rebalance products.
Amazing!
I have never been a great sleeper but since starting Dream Catcher I wake up feeling refreshed and not groggy at all. I am usually able to get to sleep (even without Dream Catcher) but my issue stems from not being able to fall back asleep easily and waking up multiple times a night. However since started Dream Catcher I am able to roll over and doze off immediately. It's literally been life changing!
Works amazingly! Wake refreshed and ready to go!
I took Dreamcatcher after knee surgery because the pain was making it very hard to sleep. It helped me fall asleep within 30 min and although I woke up every time I turned over, I was able to fall back asleep immediately. I was actually able to stop taking pain pills because I could sleep through the night just with the Dreamcatcher. Now I use it when I need a solid night of sleep and I always wake up refreshed, even if I don't get 8 hours - no melatonin hangover! Also, when I take it my Fitbit says shows my restorative sleep is always over 70% (whereas without, I'm usually less than 40%). This supplement is a dream come true!
Didn't do much
I've tried a lot of sleeping supplements, and this one didn't help very much. I have no trouble falling asleep, but I often wake up early and can't get back to sleep. This supplement, unfortunately, didn't help me stay asleep. I didn't feel any more rested when I woke up.
Hi Jon! We're sorry that you didn't find Dream Catcher to work as well for you as it has for others, and your insight is invaluable to us. In order to get quality sleep, your circadian rhythm - or your body's internal clock - must function properly. Our team recommends taking Dream Catcher as the very last thing you do before bed. Make sure you are wound down, lights are off, electronics are put away and your room is ready for sleep. Limiting blue light is a good way to improve sleep quantity and quality alone. In conjunction with consistent Dream Catcher use, your sleep is sure to improve.
Choosing a selection results in a full page refresh.
Opens in a new window.